IN MEMORY OF MY DEAREST FRIEND,
MIGUEL ANDOOR
Life presents us with joy when we come across a unique friend with whom we share years of happiness. And when that friend leaves this earth to join the symphony of music in the cosmos then life presents us with the other, the deep sorrow. It is that immense sorrow I feel today having lost this dearest friend and colleague.
Miguel Andoor and I were close friends for more than forty years, performing together in numerous operas, concerts and clubs. To know his greatness one needs only to see only one of his portrayal of Michele in Puccini's Il Tabarro.
My wife Barbara and I will miss him and never forget him.
I love you Miguel. I will never forget all those precious moments we spent together in laughter and tears; my heart cries!
Markito (that's what he always called me)
Our heart goes out to his wife Judy and all his family.
Lampas Opera Vignettes Extraordinaires (L.O.V.E.)
A Not-For-Profit Opera Enterprise
Lampas Opera Vignettes Extraordinaires (L.O.V.E.) began with the intention of giving young artists a place to practice their craft alongside currently performing artists. Today's musical training scene offers few places for talented students to continue to hone their craft between the conservatories and the big stages of the music world. In the past, Europe has provided a place for young American artists, but today Europe has a burgeoning mass of its own young talent. Opportunities for young American artists are shrinking in Eastern and Western Europe. The different degrees of experience are important—teaching young singers not to be afraid of getting in front of the public when they are at an early stage of their development.
L.O.V.E began in 1980 with a Carnegie Recital Hall performance, which included highlights from Verdi's I Due Foscari. Bill Zakariasen of The Daily News wrote "the three soloists gave a good enough hearing to make one hope for a full stage performance of this better than average Verdi score." L.O.V.E. has continued to present fine opera:
1982: Performed Puccini's Il Tabarro and again in 1984. Then it was produced as a video production with a specially conceived prologue in English.
1985: Presented The Many Faces of Manon Lescaut, a comparison of two great composers and how each one brought Manon to life. The production compared Massenet's essentially French elegance and refinement with Puccini's large brushstrokes of despairing passion. Five different casts of tenor, soprano, actor, and actress brought this music theater production to the stage and also to the video screen.
1986-early 1987: Presented the music of early Verdi, featuring two famous trios for soprano, tenor, and bass—the final trio from Ernani and the beautiful Prelude and Trio with virtuoso solo for violin from I Lombardi.
1987: Produced the series, "Four Tuesdays From L.O.V.E.," which began with "Two Tenors" (several years before the Three Tenors Concerts) with Marko Lampas and Efren Puig singing Greek and Spanish melodies, followed by three Tuesday performances of highlights from Verdi's great Don Carlo, with outstanding alternating casts.




Poster from the 1989 Turandot presentation at Merkin Hall. (Click to enlarge.)

1989: Presented highlights from Puccini's Turandot at Merkin Hall to further critical acclaim.
1994: After a brief hiatus, presented excerpts from Cavalleria Rusticana, Otello, and Suor Angelica.




Posters for Donnell Library Center performances 1996-1999 (Click to enlarge.)

1996: Performed highlights from Manon, Manon Lescaut, Madame Butterfly, and Otello at the Donnell Library Center.
1997: Performed an encapsulated version of Adriana Lecouvreur, especially conceived and directed by Barbara Iona Miller for soprano, tenor, and actress, La Voix D'Adrienne Lecouvreur, for the Donnell Library Concert Series.
1998: Presented "Around The World In Opera and Song."
1999: Produced "To Verdi From L.O.V.E."
Participating Artists 1980-2000
Sopranos: Barbara Allentuch, Jelena Alonso, Judith Andoor, Suzanne Cogan, Kathleen Cuvelier, Sharon Claveau, Mitalee Das, Darlene De Christopher, Maria Di Giglio, Lauren Effron, Christina Fontanelli, Catherine Iger, Jennifer Johnson, Tatiana Kimmel, Jaime Jung, Phyllis Krawiec, Ismerie Leveque, Jennifer McCartney, Janet Melody, Elizabeth Micari, Barbara Iona Miller, Adrienne Morrell, Nanette Norwood, Christa Orefice, Teneal Santillon, Ilona Simon.
Mezzos: Lisa Bershtein, Cynthia Fields, Yvonne Jenkins, Paula Stark, Amy Zorn.
Contralto: Yeoryia Megremis.
Tenors: Jorge Alzadon, Dean Cederquist, Mario Fusco, Arthur Hansen, Russell Jayne, Marko Lampas, Dimiter Mihov, Stephen Nuding, Efren Puig, Max Ramirez, Thurmond Smithgall.
Baritones: Miguel Andoor, Peter Despotopoulos, Charles Gafford, Arthur Levy, Eugene Moose, Francisco Perez-Abreu, James Qi.
Bass Baritone: Franco Bertacci.
Basses: David Asch, Victor De Lorenzo, Dennis Raley, Paul Schmidt, Andrew Westney.
Actors: Julia Rand, James Umphlett.
Pianists: Linda Hall, James Howe, Susan Hart, Manolis Papasifakis, Dennis Raley, Regina Yakobziner, David Yurick.
Violinist: Joel Pitchon.
Conductors: Thomas Carlo Bo, Donald Meyers, Anthony Morss.
Technical Staff: Marina Brolin, Tom Farrell, Cathy Iger, Jill Larmett, Allison Rosenzweig.
Lighting: Jim McNicholas, Farrell & Larmett.
Costumes: Rea Miller.
Designer: Jim Gilmartin.
Production: Rea & Ben Miller, Barbara & Marko Lampas.
Special thanks to: Rea & Ben Miller, Giampaolo Bracali, Anthony Frisell, Lubo Opera (Jody & Dimi Mihov), Queens Opera, Joe & Fortunata Messina, Suzanne Cogan, Kelly Horstet, Jon & Adrienne Morrell, Kathleen Cuvelier & Efren Puig, Paula Stark, Olegna Fuschi, Arlene Randazzo & Salvatore Randazzo, Carolyn Harmon, The Juilliard School, Christ & Stephens Church, Cheryl Raymond-Donnell Library, and International Limousines.
Testimonials
From Anne Hofmann, Chief Librarian, Donnell Library Center, The New York Public Library, dated November 8, 1997: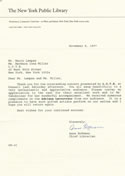 "Thank you for the outstanding concert presented by L.O.V.E. at Donnell last Saturday afternoon. You all sang beautifully to a very enthusiastic and appreciative audience. Please convey my appreciation to the cast for their excellent work and to Ms. Yakobziner for her wonderful accompaniment. We received numerous compliments on the Adriana Lecouvreur from our audience. It is a pleasure to have such gifted artists perform on our series and I hope you will return again. Best wishes and continued success."
---
From Anne Hofmann, Chief Librarian, Donnell Library Center, The New York Public Library, dated November 20, 1999:
"Thank you for another magnificent concert, To Verdi from L.O.V.E., that you presented at Donnell last Sunday afternoon. You all sang beautifully to an extremely enthusiastic and appreciative SRO audience. Please convey my thanks to the cast for their terrific work and to Reginia Yakobziner for her fine accompaniment. I appreciate all the hard work that goes into making the program possible and I hope you will return again next season. Best wishes for your continued success."
---
L.O.V.E.
A Not-For-Profit Opera Enterprise
For information: 212-787-3362